<< Previous | Next >>
Archive of Published Issues: 2023
Front Matter
Front Matter associated with this Archival Unit includes:
Metadata
Metadata associated with this Archival Unit includes:
Journal URL
https://raei.ua.es/
Title
Alicante Journal of English Studies / Revista Alicantina de Estudios Ingleses
Publisher
Universidad de Alicante
Description
Revista Alicantina de Estudios Ingleses is published yearly by the English Department (Departamento de Filología Inglesa) of the University of Alicante. Since its appearance in 1988, its aim is to provide a forum for debate and an outlet for research involving all aspects of English Studies.
ISSN
2171-861X
Language(s)
Català (ca_ES)
English (en_US)
Español (España) (es_ES)

Publisher Email
raei@ua.es
Copyright

Authors publishing in this journal agree to the following terms:

1 Copyright. Authors retain copyright, but cede non-exclusive exploitation rights (reproduction, distribution, public communication and transformation) to the journal and grant the journal right of first publication with the work simultaneously licensed under the licence set out in clause 2. Authors are free to enter into additional agreements for non-exclusive distribution of works published in this journal, as long as the fact that the manuscripts were first published in this journal is acknowledged.

© The authors.

2 Licence. Works are published in this journal under a Creative Commons Attribution 4.0 International (CC BY 4.0) licence, the terms and conditions of which are available at https://creativecommons.org/licenses/by/4.0/

Under this licence, third parties are allowed to share (copy and redistribute the material in any medium or format) and adapt (remix, transform and build upon the material for any purpose, even commercially) the material, as long as its authorship and initial publication in this journal (Alicante Journal of English Studies / Revista Alicantina de Estudios Ingleses, University of Alicante, DOI of the work) are acknowledged, a link to the licence is provided and the fact of whether or not any changes were made is stated.

3 Self-archiving policy. Authors are encouraged to disseminate their work online in order to promote earlier circulation and dissemination of their work and possibly get more citations and achieve higher impact within the scientific and academic community, under the following conditions:

Authors are not allowed to upload preprint or postprint versions (respectively, versions before and after peer-review and acceptance for publication) of their work to an institutional or thematic repository, their own website, etc. prior to publication, only the final published article (publisher's version).

LOCKSS system has permission to collect, preserve, and serve this Archival Unit.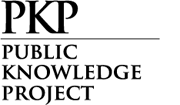 Open Journal Systems was developed by the Public Knowledge Project.