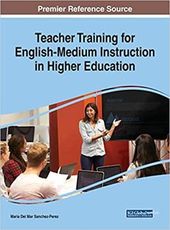 Sánchez-Pérez, María del Mar, ed. 2020. Teacher Training for English-Medium Instruction in Higher Education. IGI Global. 447 pp. ISBN: 9781799823186
Abstract
Book review: Sánchez-Pérez, María del Mar, ed. 2020. Teacher Training for English-Medium Instruction in Higher Education. IGI Global. 447 pp. ISBN: 9781799823186.
Keywords
book review; 9781799823186
References
Dafouz, Emma and Ute Smit. 2019. ROAD-MAPPING English Medium Education in the Internationalised University. Cham: Palgrave Macmillan. https://doi.org/10.1007/978-3-030-23463-8
Dearden, Julie. 2015. English as a Medium of Instruction. A Growing Global Phenomenon. Oxford: British Council.
Macaro, Ernesto. 2018. English Medium Instruction. Oxford: Oxford University Press.
DOI:
https://doi.org/10.14198/raei.2021.34.11
Copyright (c) 2021 Vicent Beltrán-Palanques

This work is licensed under a
Creative Commons Attribution 4.0 International License
.