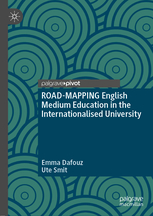 Emma Dafouz and Ute Smit. 2020. ROAD-MAPPING English Medium Education in the Internationalised University. Cham, Switzerland: Palgrave Macmillan. 163 pp. ISBN: 978-3-030-23462-1
Abstract
Book review: Emma Dafouz and Ute Smit. 2020. ROAD-MAPPING English Medium Education in the Internationalised University. Cham, Switzerland: Palgrave Macmillan. 163 pp. ISBN: 978-3-030-23462-1.
Keywords
book review; 978-3-030-23462-1
References
DAFOUZ, Emma and Ume Smit. 2016. "Towards a dynamic conceptual framework for English-medium education in multilingual university settings." Applied Linguistics 37(3): 397-415. https://doi.org/10.1093/applin/amu034
MACARO, Ernesto. 2018. English Medium Instruction. Oxford: Oxford UP.
MURATA, Kumiko, ed. 2019. English-Medium Instruction from an English as a Lingua Franca Perspective. Abingdon: Routledge. https://doi.org/10.4324/9781351184335
DOI:
https://doi.org/10.14198/raei.2021.34.10
Copyright (c) 2021 Annette Bradford

This work is licensed under a
Creative Commons Attribution 4.0 International License
.