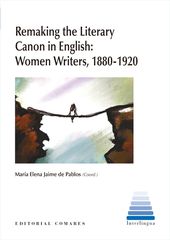 A Critical Review of María Elena Jaime de Pablos, ed. 2019. Remaking the Literary Canon in English: Women Writers, 1880-1920. Granada: Comares. 128 pp. ISBN: 978-84-9045-748-1
Abstract
Remaking the Literary Canon in English: Women Writers, 1880-1920. Edited by María Elena Jaime de Pablos. Granada: Editorial Comares, 2019, pp. 128. ISBN: 978-84-9045-748-1.
Keywords
Women Writers; New Woman Literature; Nineteenth Century; Modernism; Literary Canon; 1880-1920
References
BIRCH, Katy. 2019. "Gender, Anonymity, and Humour in Women's Writing for Punch." In Easley, Grill and Rodgers 2019, 351-364. https://doi.org/10.3366/edinburgh/9781474433907.003.0022
BRINKS, Ellen. 2016. Anglophone Indian Women Writers, 1870-1920. London and New York: Routledge. https://doi.org/10.4324/9781315567143
CRUEA, Susan M. 2005. "Changing Ideals of Womanhood During the Nineteenth-Century Woman Movement." ATQ 19: 187-204. https://cutt.ly/zulAozl [Accessed online on June 6, 2020].
EASLEY, Alexis, Clare Grill and Beth Rodgers, eds. 2019. Women, Periodicals and Print Culture in Britain, 1839s-1900s: The Victorian Period. Edinburgh: Edinburgh UP. https://doi.org/10.3366/edinburgh/9781474433907.001.0001
ESCANDELL, Daniel. 2017. "Prado Without Ríos: Spaces in the Metaliterary Canon of Memory Narrative." Ogigia. Revista Electrónica de Estudios Hispánicos, 21: 5-24. https://doi.org/10.24197/ogigia.21.2017.5-24
LOOSER, Devoney. 2012. "Why I'm Still Writing Women's Literary History." In Williams and Steffen 2012, 217-226. https://doi.org/10.7312/columbia/9780231161152.003.0031
SCOTT, Bonnie Kime, ed. 2007. Gender in Modernism: New Geographies, Complex Intersections. Urbana and Chicago: U of Illinois P.
WILLIAMS, Jeffrey J. and Heather Steffen. 2012. The Critical Pulse: Thirty-Six Credos by Contemporary Critics. New York: Colombia UP. https://doi.org/10.7312/will16114
DOI:
https://doi.org/10.14198/raei.2020.33.10
Copyright (c) 2020 Marta Bernabeu

This work is licensed under a
Creative Commons Attribution 4.0 International License
.